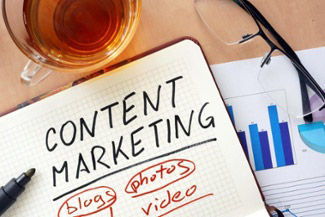 2015 was a big year for content marketing – I think we've finally reached consensus that even for small brands, retail and ecommerce, it's vital to tell your story.
To sum up the year in content, we looked to the leaders in the content marketing game for insightful thoughts. Here are our favorite quotes that we feel sum up the past year in content marketing.
Let's jump right in with number one.
"There's no point in trying to build links to mediocre content." – Stephan Spencer
SEO guru Stephan Spencer said this quote at the Planning, Refining, and Measuring SEO for Content Marketing Conference (pre-conference workshop). This workshop discussed how to combine SEO and Content Marketing to exponentially growing your organic search traffic. The quote referenced the part of the discussion about building up your site's authority in a scalable, future-proof way with cutting-edge systems, tools, and processes.
"Brands may not be people, but great brands can be built if you focus on people first." – David Beebe
David Beebe is the VP of Global Creative and Content Marketing for Marriott International's portfolio of 18 brands. David leads Marriott's creative direction and content marketing strategy. This quote was said by Beebe at the Keynote: Why Marriot is Going All In" as a Media Company. The main takeway from this keynote was why Marriott International and all of their brands have the opportunity to become the largest publisher of travel lifestyle content across all platforms. He also discussed how content builds communities that drive commerce.
"The mission of content is this: content is the emotional and informational bridge between commerce and consumer. Building that bridge requires more than a budget, an editorial calendar, analytics, and a strategy. It requires people who LOVE content and what it can do." – Jay Baer
Jay Baer is an inspirational marketing and online customer service speaker. During the keynote, "Does Your Content Pass the Mom Test?", Jay said this quote in reference to the main point of his keynote: You're busier than ever. Are you making content, or are you making a difference? It's not hard to tell when content is written by someone who has passion for the subject verus someone who does not. Baer's quote highlights the importance of emphasizing the emotion and information for each post in order to make a genuine connection with the reader.
"Fulfill the searcher's task, not just their query. Resolve their mission." – Rand Fishkin
Rand Fishkin is the founder and former CEO of Moz, co-author of several tomes on SEO and co-founder of Inbound.org. This quote was said by Rand during the keynote: Advanced SEO Practices that Will Blow Your Mind. This was an advanced level keynote that focused on attracting quality links and how to structure your website to be both SEO and website visitor friendly.
"If something succeeds, don't do more like it, do more with it." – Jay Acunzo
Jay is a marketing & creativity speaker and writer. Jay said this quote during his The Content Wheel: A Playbook to Sustain Publishing, Drive ROI, and Most Importantly Punch Unicorns in the Face speaking engagement. This quote sums up the quality of quantity strategy and emphasizes the importance of distribution for quality content that works for your organization.
"Story IS NOT an autobiography about your brand. Your brand can be a plot point, but it's THEIR story." – Buddy Scalera
Digital content strategist, transmedia storyteller, creativity author and International speaker, Buddy Scalera said this quote during the keynote: Words+Pictures: A Content Marketer's Guide to Visual Storytelling as a reminder that it's not about us as marketers.
"Find authentic stories, not just because people can sniff out authenticity, but because they're simply better." – Rajiv Chandrasekaran Rajiv Chandrasekaran is the National Editor at The Washington Post and the author of "For Love of Country", "Little America" and "Imperial Life in the Emerald City". Rajiv's view on Content Marketing is that it's not all about money, it's about aligning around values and the opportunity to do something creative and impactful.
"Creative thinking in the morning, critical thinking in the afternoon – it makes best use of how your brain works." – John Cleese
John Cleese is an English actor, comedian, writer, and film producer. This quote was said in reference to his views on the importance of establishing special time and space boundaries to be creative.
"Every trackable interaction creates a data point, and every data point tells a piece of the customer's story." – Paul Roetzer
Paul Roetzer is the founder and CEO of PR 20/20 and author of "Marketing Performance Blueprint". This quote was said in reference to the importance of properly training your team to leverage, understand, and visualize data to be efficient and effective marketers.
---
Watching how other marketers and storytellers approach their craft is a great way to bring fresh insight to your own campaigns. If you would like to be featured here (or if you have a suggestion for someone who should be), please leave a comment below.
Recent Posts
October 20, 2017 . .
October 20, 2017 . .
June 7, 2017 . .
May 15, 2017 . .
May 15, 2017 . .
May 11, 2017 . .