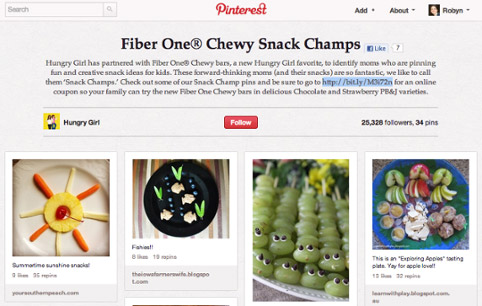 Case Study: Every so often, we take an interesting campaign and break it down for you. If you have a suggestion, please let us know in the comments or via Twitter @mariposaagency.
Fiber One Chewy Bars are sponsoring a board on Pinterest.
The idea is to reach "moms who are pinning fun and creative snacking ideas on their Pinterest boards," Ms. Travis said, and "re-pinning their ideas onto the Fiber One-sponsored board on the Hungry Girl Pinterest site," which will be called Fiber One Chewy Snack Champs.
Those Pinterest users whose ideas are selected to appear on the board will receive a badge recognizing them as "Snack Champs." (hat tip to SocialMedia.org)
First, I think this is a really interesting use of marketing on Pinterest. We've seen some fun pages directed at moms already on the photo sharing site, like the pages maintained by Whole Foods, Oreck, HGTV, Better Homes & Gardens, BlogHer and Chobani, but this is a particularly interesting campaign because it's a direct sponsorship of a board in someone else's account, namely Lisa Lillien's Hungry Girl page.
Target Audience General Mills has entered into a sponsorship/partnership with Hungry Girl, a leading recipe/food site that began as an email newsletter in 2004 and has since gone on to dominate on Twitter and Facebook and even has a show on Food Network now. The brand is fun, very casual and definitely mom-appropriate. Lisa Lillien, the girl that is hungry, has worked with General Mills in the past, promoting yogurt and other snack foods.
The bars are marketed as healthy snacks for children, so reaching out to moms is an obvious win. Pinterest marketing is a smart way to reach them.
The Campaign
General Mills has set up a board on Lisa's page, and is already reaching a large portion of Lisa's fans (25k follow the board). The board is named, "Fiber One Chewy Snack Champs" and it is being used to recognize great snack ideas that they find on Pinterest. The way it works is that a cool snack idea is found, like these Catapillar Grape Snack Kabobs originally posted on the Six in the Suburbs site. The pin is repinned onto the Fiber One Chewy Snack Champs board and the user who originally pinned the snack gets a badge that says they are a 'snack champ' and a great deal of traffic on their pin (and likely on their blog).
The snacks they've chosen so far are visually appealing, predominantly healthy and very kid-friendly. The moms they've spotlighted are all mommy bloggers. This campaign provides a benefit to the blogger, namely attention and traffic, and offers up an additional possible benefit to General Mills as these mommy bloggers just may try the product and cover it on their blog.
Beyond this Pinterest marketing, Fiber One's Chewy Bars are being promoted on Hungry Girl's website and email. Fiber One is also promoting the bars on mommy blogs and the Fiber One Facebook page.
CTA
The call to action (CTA) on this campaign is for the user to print out the coupons as try the bars. They've partnered with Coupons.com to distribute the coupons, but the implementation is flawed.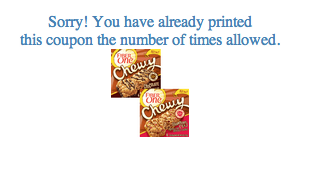 If the user encounters an error, like I did, there's no recourse and she just gets a message that she's already printed that coupon. Perhaps there should be a way to contact Coupons.com on that error message?
Suggestions for Pinterest and Fiber One Improve Brand Discovery
Pinterest should make it easier for brands to be discovered on sponsored boards like this. The objective of this sponsored campaign was to promote Fiber One Chewy Bars, but it was hard to find the Fiber One Chewy Bar product. Only after scrolling down to the bottom of the board did we find a picture of the product being promoted. Out of 34 pins, the Fiber One Chewy Bar was shown as the 30th pinned item. It was pinned 12 days ago (as of July 25, 2012). Our assumption is that unless the Fiber One Chewy Bar is pinned or re-pinned every day, it will not rise to the top of the Fiber One Chew Bar board and will probably go largely unseen.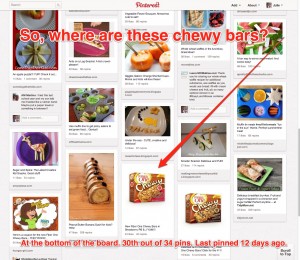 One solution for this could be to create a brand overlay ribbon for sponsored products. The price overlay was an excellent change that Pinterest made when they saw that people were using the site to market their products.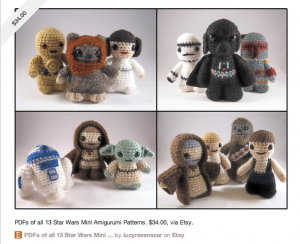 A similar brand overlay could be used here to help users discovery brand-sponsored products more easily. This type of overlay would fit well into the existing UI design that is part of Pinterest's product differentiating secret sauce. It could serve as a standard way to denote a sponsored board and open up new revenue opportunities for Pinterest as well.
Marketplace for Sponsorships
This type of campaign identifies the need for a marketplace where superstars on Pinterest can offer up their accounts for sponsorship opportunities. A healthy marketplace for sponsorships would be good for advertisers like Fiber One, publishers like Hungry Girl, and Pinterest.
Rename the Board
The name of Fiber One's board is "Fiber One Chewy Snack Champs." Chewy is extraneous here. Are the mom's chewy? Are all the snacks they're pinning chewy? Renaming the board to "Fiber One Snack Champs" would allow for the promotion of additional Fiber One food products targeted toward moms.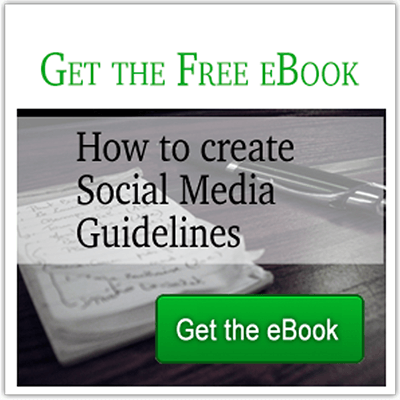 Recent Posts
October 20, 2017 . .
October 20, 2017 . .
June 7, 2017 . .
May 15, 2017 . .
May 15, 2017 . .
May 11, 2017 . .