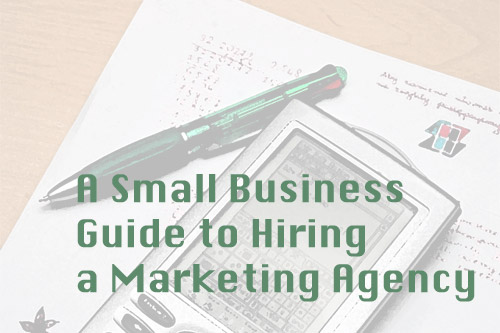 Blogging, social media, email marketing, search engine optimization (SEO)and search engine marketing (SEM) – all are valuable tools that help your business grow and thrive. They are also very time-consuming, if done well.
But, they're worth the effort. Marketing that is done well yields amazing results that are more than worth the time and effort.
Should You Outsource Your Small Business Marketing?
Evaluating your need for a marketing agency depends on a few different factors. A solid marketing plan takes time and expertise. If you presently have a marketing team in place that is solely focused on content marketing and social media, then you may not require the services of an agency. If, on the other hand, you do not have a dedicated marketing team, and you have employees trying to fill the roll of marketer in addition to other tasks, you risk the possibility of a less than effective marketing campaign.
Hiring a marketing team to handle your campaign can be costly. It is not a one person job, and it requires constant updating of skills to stay one step ahead of the game. To help yourself decide whether hiring a marketing agency is the right move for you, ask yourself the following questions:
Do I enjoy marketing? Do I have the skills required for content marketing, social media and SEO?

Can I afford to hire a full time person or team to manage marketing?

Are my sales what I would like them to be?

Am I effectively able to measure my current marketing efforts? Do I know what is working or what isn't?

Have I been wanting to hire a marketing team, but it just isn't in the budget?
The answers to these questions can help point you in the right direction.
What Are The Benefits Of Outsourcing Your Marketing Campaigns?
Expertise and Value
A marketing agency does marketing, and that's all they do. That may seem obvious, but what makes this important is that an agency isn't focused on anything but marketing. That is their area of expertise. Hiring an outside agency to handle your marketing means that you can focus on your area of expertise. There are so many elements to a successful marketing campaign. You or your team may have one or two of them down, but to be truly effective, you need to be able to focus on strategy, execution and performance.
Measuring Success or Failure
Measuring the success of your marketing strategy is something that many small businesses aim struggle with. They throw money at advertising, social media and maybe even lead generation, but there's not cohesive strategy and they have no way to tell if it's all working!
If you are unable to measure the ROI of your marketing efforts, then you have no way to tell what is working, what is not working and what you need to do differently. This means you are not only wasting your valuable time, but your finite money as well.
A marketing agency not only handles the heavy lifting, they also measure the results to make sure that your marketing campaign is on target.
Not every business needs a marketing agency, but every business needs marketing. Take a look at your skill set, your time, your revenue needs and your budget, and you should be able to know if you need professional help.
---
Get a free website assessment to understand where you currently rank in search, how your competitors are preforming and what you can do to improve your revenue.
Recent Posts
October 20, 2017 . .
October 20, 2017 . .
June 7, 2017 . .
May 15, 2017 . .
May 15, 2017 . .
May 11, 2017 . .